Information
Andrew Gerrand is a Photomedia artist based in Sydney, Australia.
His work is principally concerned with industry, technology, and their impact upon the individual and society.
Contact
+61 (0) 422 933 732
Awards
The Kayell Award for Photomedia
November 2008
Group Shows
This Is What We Were
Gaffa Gallery
Surry Hills, NSW
June 2009
COFA Annual 2008
College of Fine Arts
Paddington, NSW
November 2008
CATAPULT (Finalist)
Emerging Artist Award
Kudos Gallery
Paddington, NSW
October 2008
Olive Cotton Portrait Prize (Finalist)
Tweed River Art Gallery
Murwillumbah, NSW
August 2008
Chrome Addicts
COFASpace
Paddington, NSW
June 2007
"Money Makes the World
Go 'Round"
Kudos Gallery
Paddington, NSW
March 2006
Education
Bachelor of Fine Arts
College of Fine Arts
University of New South Wales
2006 - 2008
Works
Botany Acoustic Studies
2009
Ambient electronic music inspired by photographic excursions to industrial sites.
Click the images below to download each track in MP3 format (13mb).
Containment Plan D
Refinery Stage E
Botany Industrial Park Studies
November 2008
Large-format photography of the Botany Industrial Park in Botany, New South Wales. Presented as 1.25x1m light boxes at the COFA Annual in November 2008.
The works were awarded The Kayell Award for Photomedia at the COFA Annual in November 2008.
Study #1 was a finalist in the CATAPULT Emerging Artist Award in October 2008.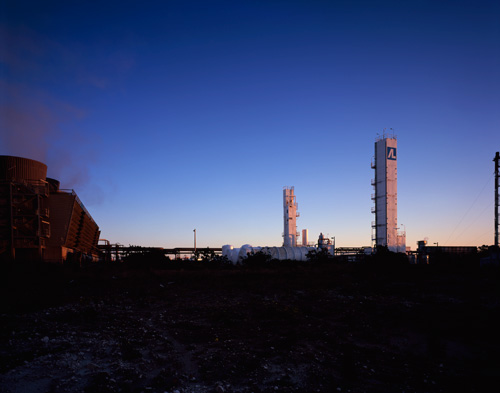 Botany Industrial Park Study #1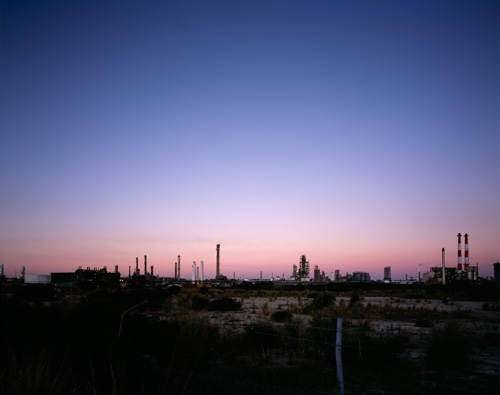 Botany Industrial Park Study #2
Industrial Landscapes
June 2008
A precursor to the Botany studies, these medium-format works were presented as large scale (75x75cm) lambda prints.
Skyline
Cyclone
Plant
Power
Interstitial
October 2007
Interstitial is a series of photographs and video pieces concerned with manipulating notions of time and space by deconstructing the concepts of the still image and the audio recording.
Interstitial
Interstitial #1
Interstitial #2
Interstitial #3
Untitled (Flock)
September 2007
Real-time environment simulation.
Intended to be viewed as a large-scale installation piece.
(click to view simulation)
Copyright © Andrew Gerrand. All Rights Reserved. Unauthorised reproduction prohibited.